1st person, 2005, 2006, 2007, 2008, 2009, 2010, 2011, 2012, 2013, 2014, 2015, 2016, 2017, 2018, 3d, 3rd person, action, action shooter, adventure, arcade, horror, indie, isometric, logic, person, puzzle, racing, racing cars, real-time, rpg, shooter, simulation, simulator, stealth, strategy, third-person, turn-based, квест, поиск предметов

Показать все теги

Age of Empires 2: HD Edition (2013) PC | RePack от SpaceX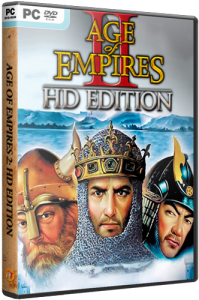 Разработчик/Издательство:
Ensemble Studios / Hidden Path Entertainment

Язык интерфейса:

EN/FR/IT/DE/ES/PL/BR/CN/NL/JP +

Русский

Язык озвучки:

Английский

Тип издания:
RePack

Таблетка:
Вшита (CODEX)
Системные требования:

Операционная система:
Microsoft® Windows® Vista / 7 / 8

Процессор:
Intel® Core™ i3 2.0 GHz

Оперативная память:
1024 Mb

Звуковая плата:
Аудиокарта, совместимая с DirectX® 9.0с

Графический ускоритель:
256 Mb, OpenGL 2.4

Свободное место на HDD:
5 Gb
Описание:Age of Empires 2: HD Edition
— это современное переиздание культовой серии исторических стратегий реального времени, которая появилась на свет в далеком 1999 году. В новом издании игры доступны все задания как оригинальной Age of Kings, так и ее популярного дополнения Conquerors позволяя игроку выбрать среди 18 цивилизаций встряхивавших мир на протяжении всей его истории. Выступите за великую Жанну д'Арк, жестокого Гуну Атиллу, грозных викингов и ацтеков. Основным новшеством переиздания стала переработка графики под разрешение современных мониторов и добавлен онлайн-режим со всеми его прелестями - достижения, таблицы игроков и облако для хранения данных. Более того, вы можете сами создавать свой собственный контент и делиться им.
Информация
Посетители, находящиеся в группе Гости, не могут оставлять комментарии к данной публикации.